Latest Orient Summer Lawn Collection 2023 With Price Catalogue
Like all other famous brands launching their collections for summer, Orient Lawn Collection is out now. This brand is working in the industry for the past few years and it knows how to survive in the industry.  This brand came into the industry in the 20th century and gain so much reputation and popularity in a short period of time. There is huge competition now and every brand trying hard to give quality outfits to its customers. Orient is one of a brand that provides quality dresses to its customers and everyone loves to wear its outfits. Not only lawn but there are other outfits as well that this brand providing you. The main purpose of this brand is to give elegant and charming designs as no other brand gives you. This brand knows ell how to gain the attention of the customers towards the brand.
The brand always provides cultural dresses as you all want.
Orient Lawn Collection 2023
As you all know that it is a heatwave everywhere and now everyone loves to wear light dresses and wants to feel comfortable in them. If you love the simplicity and cultural dresses then you must know about Orient lawn Collection 2023. Orient just recently launches its summer collection and this collection includes all kinds of outfits that you desire. As you know it's summer and In the warm breeze, the light colour and floral prints provide cool and soft sensations.
This new collection included some printed and embroidered lawn dresses that you can choose and all dresses are unique and cool in designs. The colours scheme of this brand is amazing and they know what kind of colour a customer love to wear in this hot weather. From unstitch to ready to wear every dress has its own quality and colours and every outfit is different from others. You can buy any dress you want at an affordable price, If you are not able to buy at full price then you can buy at sale price because there is a sale now on this latest collection of summer. Hurry grab your favourite designs before the sale end. Given below are some unique and cool designs and in this collection, there are almost 50+ article and each article is different from the other.
Price: 1,490
Price: 1,490
Price: 1,190
Price: 1,190
Price: 1,190
Price: 1,190
Price: 990
Price: 990
Orient Summer Collection 2023
When you talk about lawn then there many brands that are providing lawn dresses but the main reason to buy from orient is that this brand has some elegant and idiosyncratic designs. The loyal customers of this brand always prefer this brand because they know the importance of this brand and also Lawn Collection of Orient include all types of summer dresses that you really need. This brand is not as famous as others brand but it is one of the best brands that provide you with quality outfits and it has no access in the whole country that's why it is easy to buy any outfit from this brand. This brand is perfect for those who love simplicity and want to stay updated according to culture. Orient always try to keep its customer loyal to the brand that's y they provide you simple and light designs outfits. Given below are some articles that you can choose, Have a look below.
Price:3,290
Price:2,790
Price:4,690
Price:3,490
Price:3,490
Price:4,490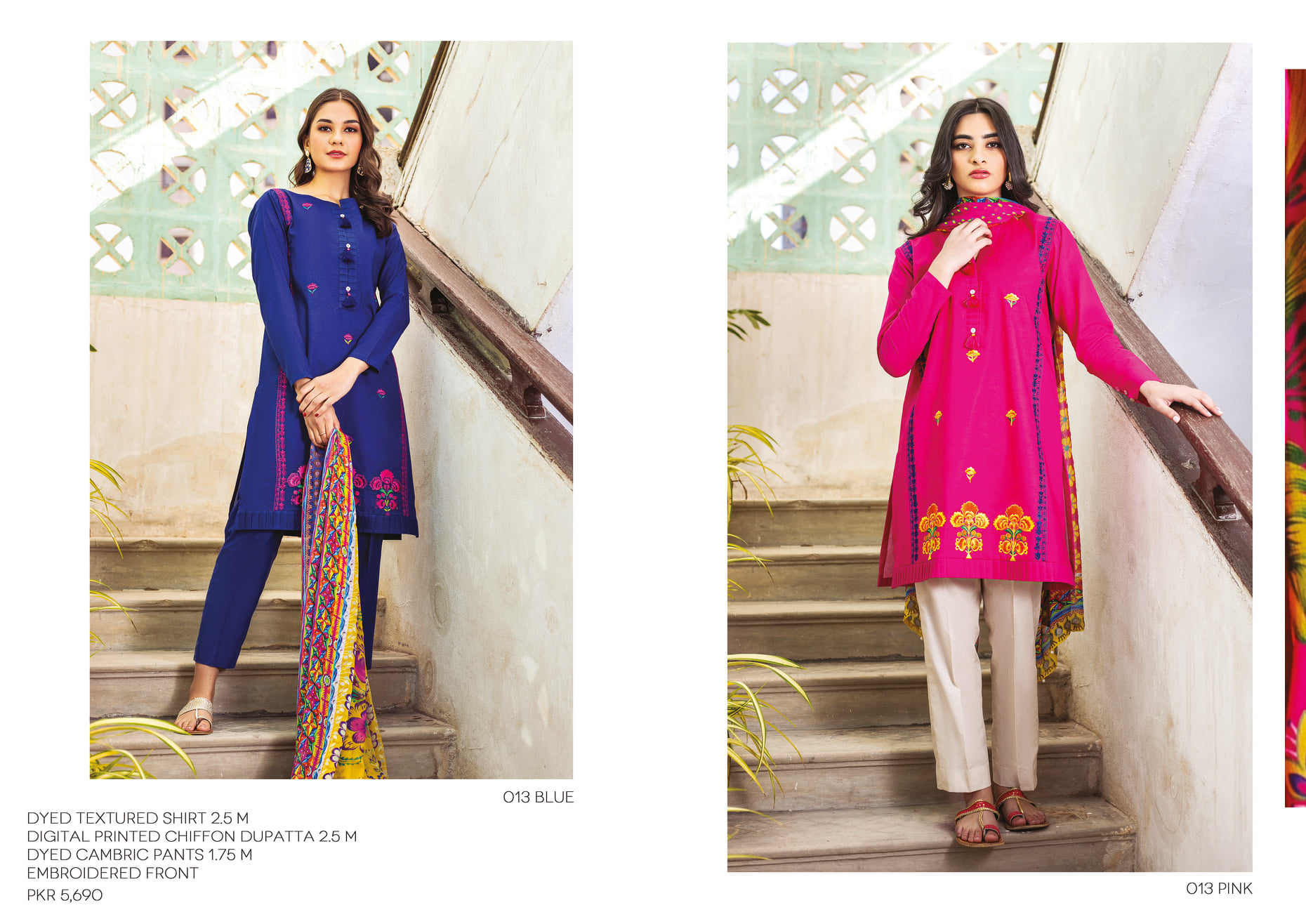 Price:5,690
Price:5,590
The above written all is about Orient collections. This brand is new in the industry and it is popular and famous. If you are not aware of this brand then you must go for this brand one time at least. I bet you won't regret it if you visit this brand and wear its outfits. This article will help you if you don't know about Orient.